Olderfleet, 477 Collins Street, Melbourne
Dramatically different to anything seen before in the Melbourne landscape, Olderfleet's strong presence provides unique, engaging and effective terrace spaces, inspiring staff and clients, supporting great outcomes.
Amenities & Facilities
Olderfleet brings renewed energy, activity and vibrancy to Collins Street with access to the best food, entertainment, shopping and lifestyle amenity Melbourne has to offer. Be connected to all transport options – buses, trams, trains, cycle-ways and even the freeway are moments from this prestigious location.

End of Trip Facilities
On-site Parking
Bicycle Storage
Security

Transport

Lobby Cafe

Dining

Retail

Childcare
Completion Date
2020 – currently under construction
"I've always believed you get a good answer by argument."
That's how Sir Nicholas Grimshaw sums up the design approach his firm took to the opportunity presented by the site at 477 Collins Street.
Rather than starting with a single vision, the Olderfleet design process began with an internal competition amongst Grimshaw's four international offices, with the successful concept coming from the Melbourne office. The final design, however, incorporated some of the best thinking from each of the submissions, resulting in a striking mix of heritage sandstone, steel and glass.
The central design idea sees the tower presented as three discrete office 'villages', with dedicated lift access, double-height entry floors and exclusive outdoor terrace areas for each village. The side-core design also delivers exceptionally flexible, open floorplates, with an abundance of natural light and views across the city in all directions. It's an architectural statement that anchors Olderfleet to its Collins Street heritage while bringing a striking modernity to the Melbourne city skyline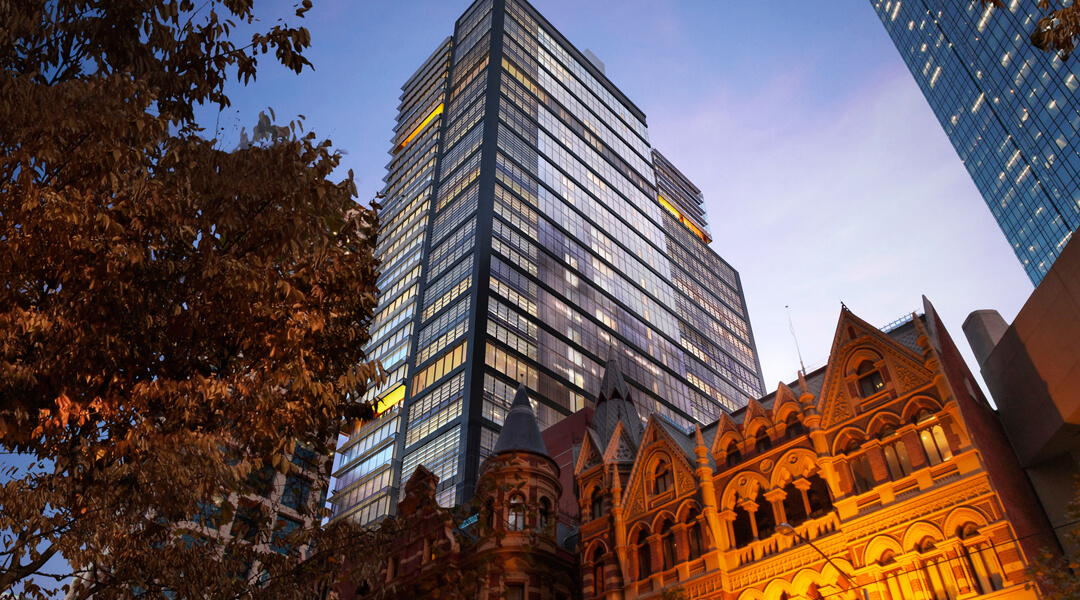 Availability
Level
Available
Area (sqm)
Level 9
Q2 2020
280-1,712
Fully fitted suites available on 5 year lease terms.
Fitout: Yes
Rent: POA
Floorplan: On request.
Level 34
Q2 2020
715-1,682
Sub divisions available from 715sqm. Stunning views.
Fitout: Nil
Rent: POA
Floorplan: On request.
Level 35
Under offer
823
Whole floor in Melbourne's newest landmark.
Fitout: Nil
Rent: POA
Floorplan: On request.