Allendale Square, Perth
Allendale Square, an iconic and well regarded 31-level office tower located in the heart of the Perth CBD.
Amenities & Facilities
Recent refurbishments included a concierge service offering and lobby lounge with informal meeting and collaborative, as well as new end of trip facilities. Underground at Allandale Square has also welcomed exciting food and beverage retailers to the property, blending the work life balance for all in the area.

Onsite Parking

Security

End of Trip Facilities

Bicycle Storage

Location

Retail

Dining
Completion Date
August 1976
Parking Rate
$750.00/sqm PA + GST
Ownership
100% - Mirvac Property Trust
Enjoy views of the Swan River from the upper floors, column free floor plates and state of the art end-of-trip facilities.
Allendale Square is located above a thriving retail arcade which acts as a pedestrian linkage to Perth's central shopping mall, train station and through to Elizabeth Quay. A significant redevelopment of the property was completed in July 2017 which features the new retail precinct 'Underground at Allendale Square', new lobby and external glass canopy, new End-of-trip facilities and a fully modernised lift service.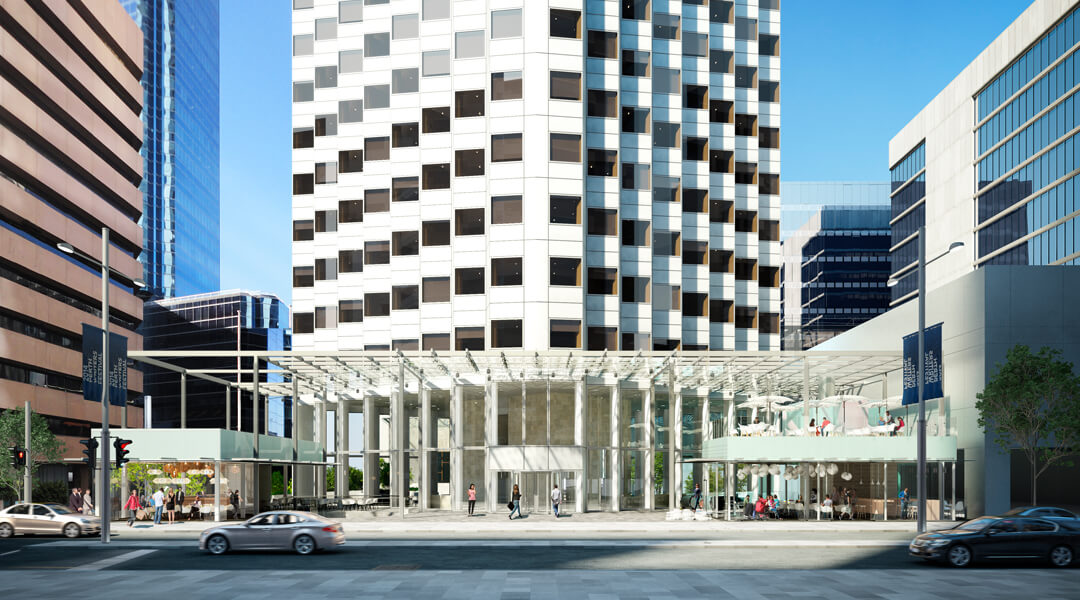 Availability
Level
Available
Area (sqm)
Level 11
Now
100.0-250.0
Spec fitout recently completed for approx. 250sqm. Fully refurbished floor with new LED lights, bathrooms, ceiling and carpet.
Level 22
November 2018
164.6
Good sized open plan space with natural light and city views.
Fitout: Nil
Rent: $655
Floorplan: On request
Level 29
Now
300.0-450.0
Great open plan space with northern aspect views over Perth. Fully refurbished with new LED lights, ceiling and carpet.
Fitout: Nil
Rent: $720
Floorplan: On request
Shop 5
Now
62.9
Good sized shop located right at the arcade entrance from Howard Street.
Fitout: Nil
Rent: $50,000 PA
Floorplan: On Request
Shop 7
Now
85.8
Great exposure right in front of main access point to arcade. Large frontage.
Fitout: Nil
Rent: $55,000 PA
Shop 8
Now
42.8
Great exposure right in front of the main access point to the arcade. Good frontage.
Fitout: Nil
Rent: $50,000 PA
Floorplan: On request